Our Business Support Manager completes Valencia Marathon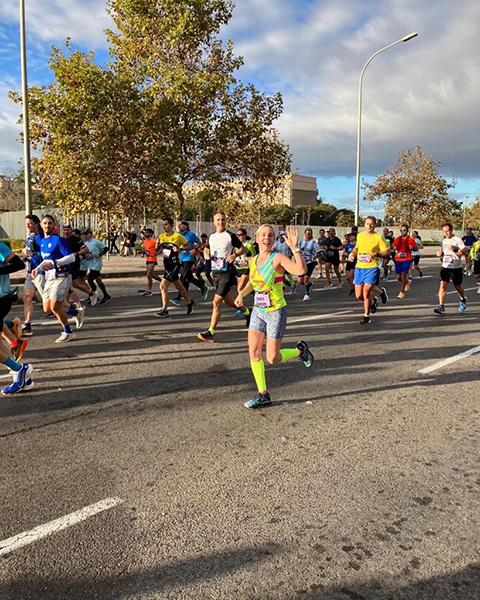 Lauren, our Business Support Manager, has recently taken part in the Valencia Marathon! Not only did she endure an injury during the training process, but completed it in 3.53hrs! We couldn't be more proud of her here at Viewture and we loved supporting her every step of the way.
Previously, Lauren ran the Brighton Marathon in 2019 to raise money for Cancer Research in aid of her best friend who sadly passed away. She trained so hard for 16 weeks and she's never one to give up nor not do things properly!
Here is her take on the experience:
"The weather was horrendous at times during my training. On my longest run, the 20 miler, the wind was battering me the whole time and it didn't stop raining! However, I'm so grateful to have had friends run with me, this made it so much more enjoyable. And they weren't even running the Marathon! That's commitment for you!
On the Tuesday after the 20 miles, I unfortunately picked up an injury in my ankle, so I was only able to run 5 times in the last 3 weeks beforehand. I was thinking at one point I wasn't going to be to take part! This was very frustrating and difficult to get my head around.
The couple of days leading up to the marathon, my stomach was churning. I was thinking 'what am I doing?' and 'will I be even able to finish the marathon (injury prevailing?)' I just wanted it to be over. All these things are going through your mind. As well as making sure you avoid picking up any colds etc.
There were 30,000 people running, so it was very busy in Valencia when we arrived. Our flight over was full of runners!
The emotional support I received before the event from my sister-in-law (also running), my Brother (AKA my Coach) and my husband, Adam, meant so much to me. They all helped me in so many different ways. The whole build up, my training and the getting my head around the injury! I couldn't have done it without them.
On the morning, as I said my goodbyes and found my way to the start, reality kicked in - I was doing another Marathon and now I was feeling excited….the anxiety had gone. A friends Boyfriend was starting at the same time which was great and really helped. It's nice to be on the start line with someone you know.
And we were off…
The support was phenomenal all the way around the route. Thousands of people cheering you on, music playing loudly and lots of fellow runners pushing each other on.
Things were going great. I was cruising along at 8/8.20 min mile, so I was on track. Then, at mile 21, unfortunately both my calves decided that they didn't want to work anymore and I had to stop….. I was in agony.
I was wondering 'will I be able to make it? I have 5 miles to go.' So, I started to run and walk. When running, I realised the only way to run and to avoid the pain was to run flat footed (a bit of a shuffle). It was never a thing of 'how am I going to get out of this?', it was 'how am I getting to the end?' I would never quit – that was not an option, I had to get over that finish line.
At mile 21, I could see Adam, I had been looking for him since the pain kicked in, I needed some support to get me to the end. It was emotional, yet, encouraging. Just what I needed!
Once I turned the corner and could see the finish line, I was so happy! I could see the clock and was amazed as I was still under the 4 hours. I had given up on my watch as I wasn't sure if that was even right with the stopping and starting, all sorts of things go through your head.
And then I went over that finish line….
Making my way through the crowds of people, it was a long time until I could find my family. When I did find them, I fell on the grass and let the legs rest! I had done it.
Looking back on this I realised that I am much stronger than I knew. Mentally and physically this was the hardest thing I have ever done.
Will I do another one? I don't think so, but never say never ey! :-)"